ARI improves the performance of material systems through the development, design, processing and characterization of polymers, nanocomposites and metals. We work to leverage the convergence of the physical world (materials, processes, machines) and the digital world (design, data) to accelerate the development and qualification of manufacturing and materials solutions.
Approach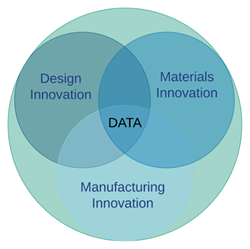 Leverage a fundamental multiscale understanding of materials to tailor the chemistry, composition, and processing to improve the performance of materials systems
Incorporate design and manufacturing considerations early in the materials development process
Couple simulations, experiments and machine learning approaches throughout the design, development and manufacturing process
In-situ mechanical testing of material/structural components using novel optical measurement techniques
Benefits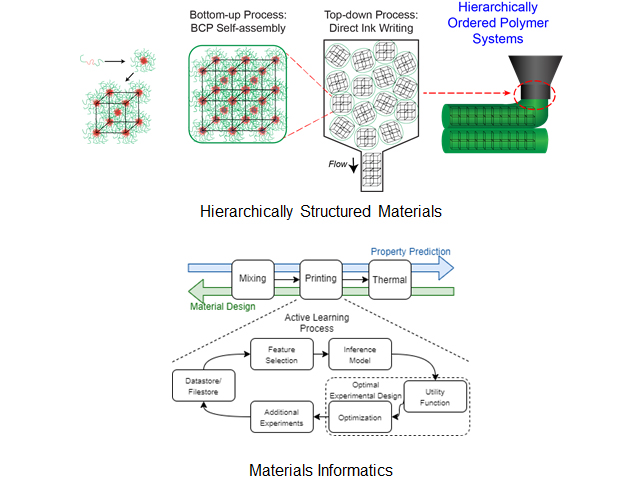 Co-development of materials and processes results in a decrease in the time and cost associated with developing improved materials systems
Validate mechanical performance through demonstration
Use of machine learning enables the optimization of complex materials, parts and processes that would be impossible using traditional approaches
Focus Areas
Development and processing of high-strength, lightweight materials
Process development and qualification for additive manufacturing
Development and qualification of new materials for polymer and metal additive manufacturing
Implementation of novel in situ mechanical testing techniques in complex environments (supersonic/hypersonic wind tunnels)
Development of scalable, hierarchical self-assembled materials
Design of highly recyclable polymers
Intelligent process control in manufacturing
To learn more, contact Nicole Johnson, ARI Managing Director.
Our Team
Associate Director for Manufacturing Science
Senior Research Scientist
Senior Research Scientist
ARI works with key agencies including the Department of Defense, the Department of Homeland Security, the Defense Advanced Research Projects Agency, and the National Institutes of Health to build prototype solutions in a variety of impact areas.
An aging population, longer life expectancies and rising healthcare costs poses a challenge to ensuring a healthy population. ARI develops smarter health solutions to meet these challenges with advances in disease prevention, diagnostics and treatment.
To advance technology of manufacturing processes, equipment and machines to manufacture and design materials using cloud computing, analytics, big data, and connected machines.