Testing the Building Envelope Tightness of the U of I Transportation Building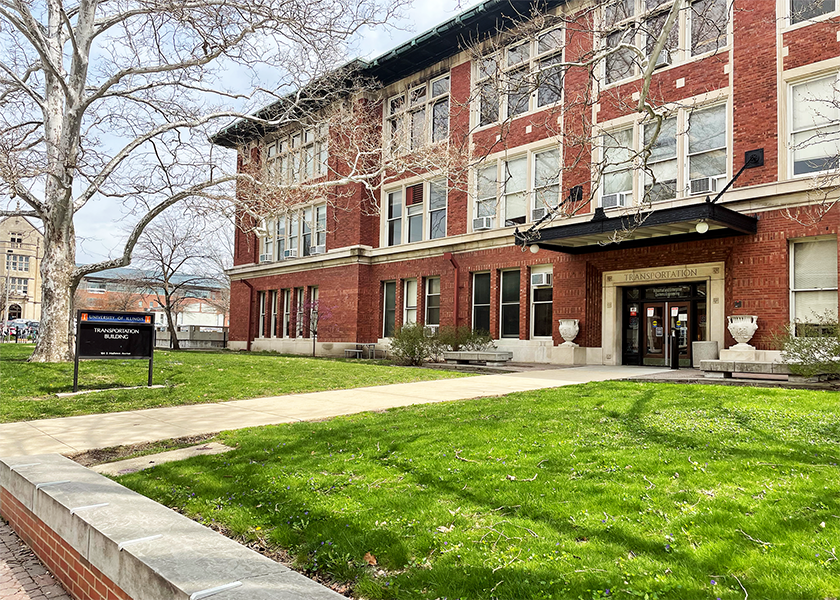 The Indoor Climate Research and Training group at the Illinois Applied Research Institute at the University of Illinois at Urbana-Champaign is partnering with Facilities & Services (F&S) staff to test the building envelope tightness of the Transportation Building (104 South Matthews Ave., Urbana) on Saturday, May 21. The building will be closed and entrances blocked from 8 a.m. to 5 p.m., and normal building operations will resume Saturday evening.
ICRT will provide the blower door test equipment and will oversee the project, including planning, onsite walkthroughs and testing, and analysis of results. In a blower door test, a powerful fan that pulls air out of the building is mounted in an exterior doorway of the building. This lowers the air pressure inside, and the higher air pressure outside forces air inside through unsealed gaps, cracks and other openings, according to the U.S. Department of Energy.
According to William Rose, Senior Research Architect at ICRT, blower door testing is a crucial part of testing airtightness and energy performance in buildings. By identifying sites of air leaking through testing, the results can be used to direct improvements and compare subsequent results. During the test, the Transportation Building will be depressurized to -75 Pascals pf pressure difference compared to outdoors. Team members will move throughout the building and use smoke pens to find and describe leaks.
"Energy results from building models can go anywhere between being an energy waster to a shining example, depending on the airtightness input," Rose said. "Real building energy performance shows the same performance result for airtightness."
As a pilot project for a larger study, the test on May 21 will contribute to developing campus expertise for reducing wasteful heat transfer through building envelopes, which is done in part through improving airtightness of buildings. This project also contributes to the energy efficiency objectives in the Illinois Climate Action Plan, the university's strategic plan for achieving carbon neutrality no later than 2050.
"Facilities & Services is proud to be an active partner in research that will advance the university's energy conservation efforts and bring the campus closer to achieving carbon neutrality as soon as possible. With more than 600 buildings at the U of I, this project collaboration has the potential to make a significant impact by helping identify new areas where envelope improvements should be performed to make facilities more energy-efficient and comfortable for occupants," said Dr. Ehab Kamarah, Interim Executive Director of F&S.
Funding for this project is provided by the Illinois Green Fund, through the Student Sustainability Committee, and the Carbon Credit Sales Fund, through the Institute for Sustainability, Energy and Environment, and Facilities & Services.
The pictures below were taken the day of the testing.