ARI, team seek to improve corrosion prevention treatments
Corrosion remains a crucial problem to the Department of Defense (DoD). It costs the DoD $22.9 billion annually based on 2010 data and weighs on the global economy as a whole.
DoD vehicles, munitions and buildings are required to operate exceptionally for many decades in some of the harshest conditions around the world. These systems have been protected by hexavalent chromium – a highly hazardous chemical to both the application personnel and to the environment. While there has been success in replacing its use in the commercial sector, these corrosion protection systems are insufficient to meet the needs of the DoD.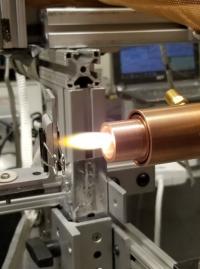 To work towards solving this problem, Dr. Dan Krogstad at the Applied Research Institute (ARI) is teaming up with researchers across the UI system and the Champaign-Urbana area.
In a project funded through the Strategic Environmental Research and Development Program (SERDP), the team is developing a chemical-free atmospheric plasma process to clean and pretreat metal components to impart corrosion protection, increased bonding and increased paint adhesion through an integrated computational materials engineering (ICME) approach.
ARI identified the need and put together a team of researchers including lead PI Prof. Santanu Chaudhuri at the University of Illinois at Chicago (formerly at ARI), and co-PIs NPRE professor David Ruzic, MatSE professor Jessica Krogstad and Starfire Industries to come up with a proposed solution.
Currently, ARI is working with the Ruzic lab to clean aluminum samples and to deposit the ceramic coatings using an atmospheric plasma based method, guided by the multi-scale modeling efforts of the Chaudhuri group. ARI will play a critical role in characterizing the performance properties of the treated samples using both state-of-the-art micro/nanoscale characterization methods and well-known macroscale military standardized tests for corrosion protection, bonding strength and paint adhesion.