Contextual Innovation and Practice working with the Aymara Communities in Bolivia
Gaining an understanding of context when working with the private indigenous Aymara communities high in the Andes Mountains of Bolivia can be a challenging task, but Contextual Innovation & Practice (CIP) Research Engineer Alexandra Timmons and Senior Research Scientist Ann-Perry Witmer did just that during field investigations this March. Timmons and Witmer worked with partners Universidad Privada Boliviana (UPB) and Fundación Ingenieros en Acción (FIEA) through a U.S. Department of State grant and spent time in six communities on the high plains of Bolivia to learn about the unique capabilities, identities, and needs of the Incan Aymara indigenous population.
Concurrently, Witmer and University of Illinois Associate Professor of Horn Bernhard Scully, through a College of ACES (Agricultural, Consumer and Environmental Sciences) grant, investigated how to use music as a pathway for insight into the appropriateness of Western technology among indigenous peoples. Accompanied by Jessica Mingee, a student researcher who studies both Contextual Engineering and French horn, the team used a combination of technical and musical investigations to build a rich understanding of a society that is unfamiliar to even many Bolivians.
"We spent each night in a different community, sleeping on floors in community houses, blending horn music with Andean instruments, dining on the occasional sheep or llama, and visiting with residents to build an understanding of what it means to be Aymara," Witmer said. "While our objective was to identify appropriateness of technical training modules in the Food-Energy-Water nexus, we were able to explore how both music and technology traditions of the Western world may merge with the rich history of identity and capability in the indigenous world to produce more sustainable technical outcomes."
Timmons found deep value in learning about rural communities by talking with residents, whose openness to sharing of themselves increased dramatically when CIP researchers sought to learn from the Aymara, rather than to teach them.
"We've been working on this project for so long with our Bolivian partner organizations, but this trip provided our first opportunity to interact with the people who are the most important stakeholders in the training program we're developing," Timmons said.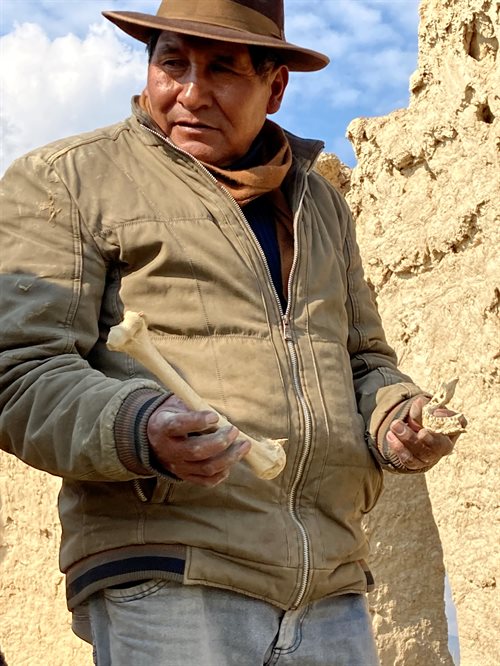 Timmons, Witmer, and Mingee also met with UPB faculty and FIEA staff for three days in La Paz to debrief on the variety of conditions that were uncovered among the communities of the Sica Sica municipality, where the Aymara live. The next step in this applied research project will be to identify and design training modules in clean energy, safe water, and reliable food that FIEA will bring to each community through mobile demonstration sessions this summer. The training programs will focus on three audiences – municipal technicians, community leaders, and residents at large – and the focus of each program will be adjusted using CIP methodology to address the unique context of each community. Plans are under way to establish a permanent training center on the UPB campus that will provide contextualized training programs for both rural and urban La Paz residents in support of climate change mitigation and adaptation.
CIP is a core competency of ARI and uses societal exploration to inform technical decision-making so that solutions better fit with the populations whose needs are being addressed. The funding for this project is a State Department Public Affairs Section grand administered by the U.S. Embassy in La Paz, Bolivia.
To see videos from this trip, please visit https://contextual.engineering.illinois.edu/indigenous-bolivian-technology-and-music/.