Reducing Embodied-energy and Decreasing Emissions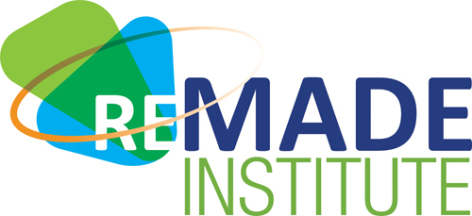 The Reducing Embodied-energy and Decreasing Emissions (REMADE) Institute is a national coalition of leading universities, national labs and companies that will forge new clean energy initiatives deemed critical in keeping U.S. manufacturing competitive.
The University of Illinois is a Tier 1 member of the Institute and will work in collaboration with Rochester Institute of Technology (RIT), Idaho National Lab, Argonne National Lab and others in partnership with the U.S. Department of Energy.
Dr. Magdi Azer, Associate Director for Manufacturing Science at ARI is also the Chief Technical Officer of REMADE Institute.
"Illinois has played a critical role in the design of the Institute and the proposal itself," said Magdi Azer. "What originally started as an invitation from RIT to speak about my experiences working with the Digital Manufacturing and Design Innovation Institute in Chicago has evolved into my role as the Chief Technology Officer for the Institute."
Magdi will be responsible for establishment and implementation of the REMADE technology roadmap that identifies early stage applied research and development projects that could dramatically reduce embodied energy and carbon emissions associated with industrial-scale materials production and processing.
"To make sure that we achieve a balanced portfolio of next-generation technologies and workforce development projects, I am fortunate to be able to draw upon the expertise of the leaders that will oversee the five nodes that form the REMADE Institute," Magdi said.
Deborah Thurston, Professor of Industrial and Enterprise Systems Engineering, will serve as the leader for the Design for Reuse/Disassembly node.
"Product design is where fundamental decisions get made that can either doom a product to an early grave in the landfill, or ensure a second life, said Thurston, who also directs the Decision Systems Laboratory at Illinois. "What materials, component forming processes, assembly technologies and business models can help us get the most out of the energy we put into manufacturing? That is what we want to know."
To help answer this question, Harrison Kim, professor in Industrial and Enterprise Systems Engineering, is slated to lead one of the first Institute projects titled: "Initial Scoping and Requirements Definition for Design for REMADE." This project will develop a framework for seamlessly integrating lifecycle design tools and methods with the traditional design tools currently available.
The REMADE Institute is one of 13 national research consortiums that comprise the "Manufacturing USA" federal initiative. Leveraging $70 million in federal funding, matched by $70 million in private commitments from partners, the REMADE Institute will address knowledge gaps that could eliminate or mitigate the technical and economic barriers preventing greater material recycling, recovery, remanufacturing and reuse.
Drawing upon research and expertise contributed by universities, companies, national labs, industry trade associations and foundations, the REMADE Institute seeks to motivate subsequent industry investments to advance technology development and disseminate those technologies across the U.S. manufacturing eco-system.
Similar to other Manufacturing USA institutes, Illinois faculty and staff will also have the opportunity to get involved as they respond to project calls that will be released each year.
"This Institute will provide a strong platform for ARI and the University to expand research partnerships with both industry and external partners," Magdi noted.
The REMADE Institute recently moved into its headquarters located near Rochester, NY.
The Institute is conducting industry surveys to capture the most relevant challenges their partners face today. In parallel, they are assessing the technology and market landscape to establish a baseline for the roadmap.
Recently two workshops were organized to further refine and prioritize the knowledge gaps that must be addressed to increase material recycling, recovery, remanufacturing, and reuse. The Institute will use the collected information to prepare the initial roadmap that will guide future REMADE Institute investments.