Meet a Few of ARI's Summer Interns
Didun Oladeji - ARI Materials and Manufacturing Intern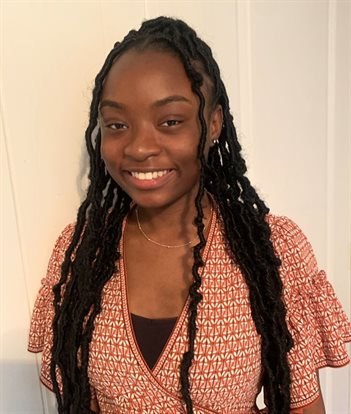 Didun is a rising junior in Mechanical Engineering with a minor in Materials Science and Engineering and expects to graduate in May 2024.
This summer, she worked with Dr. Daniel Krogstad in the Materials and Manufacturing group at ARI. She has been working on 3D Printing multi-material structures using materials with different mechanical properties to create bend-twist coupled materials, as well as demonstrating that the classic laminates theory for composites can be extended to 3D printed multi-materials.
This internship has helped her to further solidify her interests in Materials Science and gain more practical experience in her minor that she might not have been able to gain in the classroom. She believes interning at ARI was an amazing learning experience and that the skills she learned here can be applied throughout the course of her education and engineering career.
Santiago Ospina Tabares - ARI Building Sciences Intern
Santiago is pursuing a Master's in Curriculum and Instruction, focusing on Digital Environments for Learning, Teaching, and Agency, and expects to graduate in May 2023.
During his time at ARI, Santiago worked with the Building Science group on assisting with design, photo and video materials, and implementation of online training courses. He assisted in the blower door test of the Transportation Building on campus by taking photos and videos; this test is part of a larger initiative on campus to make buildings more energy efficient. He has also participated in other weatherization activities in local houses to make them more efficient by capturing videos and photos to use in online courses. He has also worked on other areas of online course design, including organizing a media library of photos and videos, working with instructors on instructional design on online versions of Building Sciences training programs, and creating digital content for online courses.
He said that he has been enjoying learning about a field that he hasn't worked in before, yet affects our lives directly. "Having houses with the right characteristics is fundamental for a higher quality of life," he said. "With this experience, I realized how important this field is. Also, I can talk with my friends and family about weatherization and suggest to them things for their homes based on what I have learned here."
"I am an international student and this is my first job out of my country," Santiago said. "I am having real experience working in a different language and culture, and I am having on-hands experience in what I have been studying. That's a great opportunity for my future career."
Arin Rzonca - ARI Contextual Innovation and Practice
Arin Rzonca is a fourth-year computer science student and expects to graduate in May 2023. This summer, Arin has been working with ARI's Dr. Ann-Perry Witmer in the Contextual Innovation and Practice group.
Arin has worked on several projects, including conducting a contextual analysis of the communities within the Vernon Township to determine what green solutions are best suited to their needs as the township works to achieve net zero carbon emissions by 2050.
Arin has also helped plan a survey to distribute to leaders in the Great Lakes region to learn about their needs regarding coastal resilience and has worked with an electric engineering Ph.D. student on writing code to optimize charging at electric vehicle charging facilities.
Arin is glad of the opportunity to work at ARI, saying, "This is the first time I've done a contextual analysis for an engineering project, which is really exciting! I've spent a lot of time learning about it, but nothing compares to learning from the experience, and I'm looking forward to seeing how our analysis guides the project design."
After getting hands-on experience on contextual design, Arin hopes to work in energy infrastructure, which will require contextual knowledge and working with community members.